Go features simple 1-click content restore for backed up Go site content.
Restore is only for Go content, and will not restore your entire site.
Restore can only be done from a desktop browser, and not a mobile device.
Restore (Import) Go Content.
1. Click the user settings icon.
2. Click the disk import up icon. Choose your Go backup zip file. After choosing, Go will begin restoring your content to the backup zip date. When complete, Go will refresh the page with your restored content.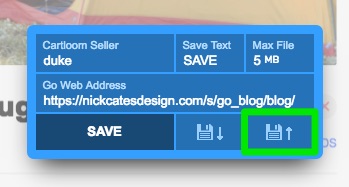 🎉 Done!