RapidWeaver Setup
1. Create an AddThis Inline share button
2. In your AddThis account, click on GET THE CODE
3. Get the HTML Website snippet code.
4. Paste the AddThis "Unique Code snippet" on your RapidWeaver Go Blog page, within Inspector > HTML Code > Body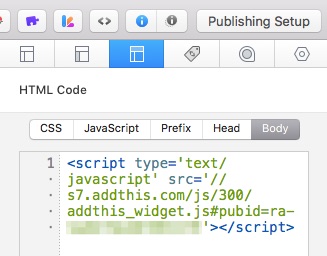 5. Paste AddThis snippet below into the Go Blog edit Settings > Global Footer
<div class='addthis_inline_share_toolbox'></div>
DONE! When viewing individual posts, your AddThis inline social icons should now appear.